Welcome back! Today's featured author is the talented Carina Bissett. Carina is an accomplished writer, editor, and scholar whose focus is often in the realm of dark fantasy and fairy tales. She has a new story slated for release in the Hath No Fury anthology from Ragnarok, and she is also currently instructing a course on monstrous women in literature (and what could be cooler than that?).
Recently, Carina and I discussed her work as a writer and editor, as well as her plans for the future.
A couple icebreakers to start: when did you first decide to become a writer, and who are some of your favorite authors?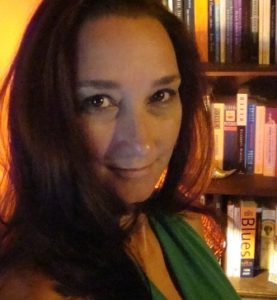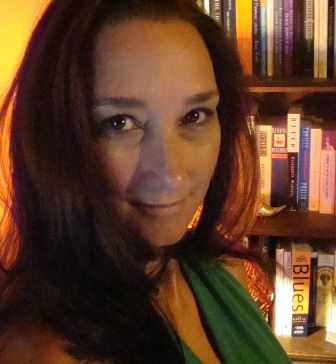 I wish I had a definitive moment when I actually made this decision. Books have always been at the center of my life, but it wasn't until I was in my early 20s that I actually started writing stories of my own. The stories have always been there; getting them on paper was the hard part. It wasn't until I first read The Bloody Chamber by Angela Carter that things started to click for me. Other writers that influenced my early work are Terri Windling, Margaret Atwood, and Liz Hand. Some of my favorite working writers today include Angela Slatter, Genevieve Valentine, Kate Forsyth, Damien Angelica Walters, and Kristi DeMeester. The talent out there is tremendous and I absolutely love reading stories that inspire me to work harder on my own body of work.
Your work is often influenced by fairy tales. What initially drew you as a storyteller in this direction? Do you remember the first fairy tale you ever read, and do you have a personal favorite?
Fairy tales are the foundation on which I've built my life. In fact, I still have my first childhood book of fairy tales; the cover is tattered, the binding is broken, and it's held together with rotting rubber bands. Even though it should be thrown away, I can't bear to be parted from it. This version is not the clean version so many people equate with childhood. I knew early on about the bloody, dark side of these stories. During the course of my lifetime, I have survived trauma after trauma after trauma, and it was fairy tales that helped me to survive. The first fairy tale I read was "Snow-White and Red-Rose." (I still have the Golden Book, which was illustrated by Marjorie Cooper and sold with the cover price of 49 cents.) But as an adult and a domestic violence survivor, "Bluebeard" is at the top of my list. Angela Carter's "The Bloody Chamber" is one of my all-time favorite re-tellings, but I also love "The Maiden Thief" by Melissa Mead and "The Glass Bottle Trick" by Nalo Hopkinson. They are both gorgeous renditions of a truly horrific tale.
Congratulations on your recent acceptance into the Hath No Fury anthology! What can you tell us about your story that will be included in the table of contents?
Thank you! "A Seed Planted," the story selected for inclusion in this amazing anthology, is a feminist "Jack and the Beanstalk"–"Rappaccini's Daughter" mash-up with a science fiction slant. I started this piece in October 2015 after a floating city was spotted hovering in the clouds above Yueyang, China. It was a mirage, albeit a superior one falling in the category of a fata morgana, but I liked the wilder claims of a portal opening to another dimension. This and my research at the time on poison girls, the vishakanya from Hindu mythology, resulted in the first draft of this particular story.
You recently served as an editor for a special issue at NonBinary Review. How, if at all, has your work as an editor shaped your writing, and vice versa?
In the past, I've critiqued any number of stories, something I feel has been beneficial as I continue to work on my own craft. I thought editing the NonBinary Review issue based on the fairy tales of Hans Christian Andersen would be a similar experience. I was wrong. There were more than 200 submissions to be read and sorted and read and sorted over and over again, an experience that has given me new appreciation for all of the first readers and editors working out there. Not only was the process about selecting the best pieces submitted, but it was also about striking the right balance to create a certain flow in the issue. As much as I hated it, there were some brilliant submissions that I just couldn't accept because they just didn't fit into the whole picture. Although there wasn't any particular story that I feel has influenced my own stylistic tendencies, I think that by reading quality writing, I continue to grow in my own work. I also believe there is much to be learned from stories that don't quite work. When I found myself rolling my eyes over adjective heavy prose or nodding off while trying to read a piece that seemed to drag on forever, it served as a reminder to keep an eye out for similar problems that might occur in my own stories.
You are the instructor for an upcoming workshop on monstrous women in literature. How did you go about developing this class, and what are some of the required readings for the course?
I have spent a lifetime studying myth and fairy tales, which are populated with monstrous women and women monsters. The concept for this workshop began more than a year and a half ago when I realized that my protagonists were invariably women in distress, women who overcame trauma by monstrous means. Once I started collating my knowledge, a pattern emerged and I winnowed it down from there. The amount of material is tremendous, so I had to break the course into two parts. This semester I'm focusing on the following categories: Great Goddesses of Death and Destruction, Matriarchal Monsters and First Females, Wicked Queens and Bloody Crowns, Witchy Women and Enchanted Attacks, The Seductive Allure of the Femme Fatale, and Lesbian Vampires and Lost Souls. Each module includes source material, re-tellings, academic papers, symbolism, writing prompts, discussion questions, an image gallery, and other resources. For instance, in the first session, which was set aside for introductions and instructions, we read and discussed academic discourse on transgressive literature and a few select pieces of fiction including "Given the Advantage of the Blade" by Genevieve Valentine, "eyes I dare not meet in dreams" by Sunny Moraine, and "The Floating Girls: A Documentary" by Damien Angelica Walters. I also offered access to several journal articles for writers looking to dig a little deeper. The actual modules are a much more in-depth exploration on the topics presented and include both required reading and optional reading assignments. At the end of the workshop, participants will have written six stories, two to three of which will receive an additional critique as portfolio pieces.
What projects are you currently working on?
In addition to running the online workshops at The Storied Imaginarium (Monstrous Women: A Feminist Approach to Myth and Magic and Intersections: Nature and Myth), I am working on the third semester of my MFA in creative writing at Stonecoast. I'm thrilled to be working with the award-winning poet Cate Marvin. In addition to the drafting of five new short stories and 20 new poems, I will be working on an academic paper focusing on assembled and disassembled women in literature and film. It's an exciting project and I can't wait to dig into the research.
Out of your published work, do you have a personal favorite?
I was involved in a nasty bicycle accident last June and I'm only now recovering from the traumatic brain injury I suffered in addition to the physical injuries (six surgeries and counting), which is why I haven't written much over the last year. However, I did manage to write "Serpents and Toads," a Faustian re-telling of "Diamonds and Toads," which was published this spring in Enchanted Conversations. As a woman who's struggled with weight for the most part of my life (swinging back and forth from anorexia to obesity), I found it a cathartic experience.
Where can we find you online?
I have published online with NonBinary Review, Timeless Tales, The Horror 'Zine, and a smattering of other publications, but most of these represent my older work. My newer pieces, written since my accident, have a decidedly different style that leans heavily into the realm of fabulism, Links to my stories that were published online can be found at my website at https://carinabissett.com/stories/.
Big thanks to Carina Bissett for being part of this week's author interview!
Happy reading!