For this week's author interview, I'm pleased to spotlight John Boden. John is a dark fiction writer of many short stories, and he's also a contributing editor at Shock Totem. His work has appeared in LampLight, Robbed of Sleep, and Once Upon an Apocalypse: 23 Twisted Fairy Tales, among others.
Recently, John and I discussed his favorite authors (Bradbury!), his tenure at Shock Totem, as well as writing fiction based in our shared home state of Pennsylvania.
A couple icebreakers to start: when did you first decide to become a writer, and who are some of your favorite authors?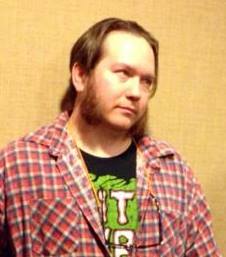 I have always wanted to be a writer, since first reading Ray Bradbury in school. Then I moved on to Stephen King. I actually sent him a story I wrote when I was maybe eleven. It was about a vampire Vacuum cleaner. I got a standardized postcard back with a little handwritten note on it that I always assumed/hope was from him. I wrote all through high school and what little college I made it through.  I pretty much gave it up for twenty years and only really went back to it when we started Shock Totem. Some of my favorite authors would/could on a given day be:  Agatha Christie, Louis L'Amour, Stephen King, Ray Bradbury, Charles Beaumont, William S. Burroughs, Shirley Jackson, Willa Cather, Harlan Ellison, Gahan Wilson, John Skipp, Robert R. McCammon, Robert Aickman, Stephen Graham Jones, Margaret St. Clair, Rod Serling, Jack Ketchum, James Newman, I could go on for days.
The first story of yours that I read was "Possessed by a Broken Window," featured in LampLight, Volume 3, Issue 3. Without giving too much away, this multi-layered tale deals with grief, illness, and the oppressive atmospheres of hospitals. Although we'd never choose it, most of us can relate to these themes. What inspired this story, and were there any particular challenges you experienced during the writing process?
I wish I could tell you some glorious anecdote here but I can't.  That story is one hundred percent true, every action in it and person is real and happened. I added a slight bit of the fantastical to make it fiction.  It was one of the hardest stories I ever wrote. It was part of a long series of very sad things that I wrote after my father passed.
Your book, Dominoes, is fashioned in the manner of a Little Golden Book, albeit with some proverbial hardcore horror. Was there a particular moment or memory about Little Golden Books that made you say, "Yeah, I totally need to twist this up and give people nightmares"? And do you have a personal favorite Little Golden Book? (I for one am obsessed with The Color Kittens and their never-ending acid trips.)
It wasn't quite that thought out. We just thought it would make an interesting presentation to package it as a children's book. I'm actually still surprised at how well it's been received as it is far from a linear story experience. As for my favorite Little Golden Book, probably The Saggy Baggy Elephant.
In addition to your fiction writing, you've worked as a contributing editor at Shock Totem. How has the behind-the-scenes experience in the publishing world informed your work as an author?
It has opened my eyes quite a bit. I've been reading all of my life and never really knew what it took to get those books from the author's head into my eager hands.  You know how if you've ever worked in retail, you're like the most patient and nicest customer ever…because you understand the hell that is that side of the counter?  Publishing is a very similar situation. It made me look at a lot of aspects that I never thought on before.
Like me, you are a resident of Pennsylvania (hi, neighbor!). Does the gloomy weather, sickeningly bucolic hillsides, and complete lack of easy booze access often inspire your dark fiction?
I've lived in Pennsylvania all of my life. I grew up in a tiny town called Orbisonia.  It's nestled in the mountains between Chambersburg and Huntingdon, if that helps anyone.  It's beautiful there. Booze never enticed me. I'm sort of allergic to alcohol so I don't drink. I always find myself setting my work in my hometown, regardless of where I place it…it's always Orby.
What's the best writing advice you've received? And do you always follow it?
I don't know that I've ever actively asked for advice.  I mean, I've sent stories to fellow writers and asked their thoughts. But I know that John Skipp and others have told me in conversation that you need to write honest. I'm sure they've said it better. But it really is about that.  I approach a story with the only goal being for it to come out of my head and onto the page with as little mutation as possible.  The mutation usually comes in later.
What upcoming projects can we expect from you?
I start so much and finish so little. Heh. Projects: Michael Wehunt's Greener Pastures collection is coming soon, I did some editing on that.  It's fantastic. Personally, I've been trying to land a home for my coming-of-age novella, Jedi Summer. I pulled a lot of reading favors from friends on that one and everyone seemed to dig it.  There's a collaborative thing I did with Mercedes Yardley called Loving The Girl With X's For Eyes we're trying to get out there. I have some stories coming out in various anthologies—Borderlands 6, Bumps in The Road and another one I can't recall the name of right now.  I'm nearly done with the Dominoes-style Haunted House thing and halfway through my novella-mayhaps-novel, Spungunion.  There's other stuff, too.
Thanks for the opportunity to blather on.  It was an honor sharing a Table Of Contents with you.  [Extends hand for super secret "You-Gotta-Be-From-Pa" handshake]
Big thanks (and secret handshakes!) to John Boden for being part of this week's author interview series! Find him online at his blog, and be sure to keep up with the great work he's doing at Shock Totem.
Happy reading!