Welcome back to another author interview! This week, I'm pleased to feature John Claude Smith. John Claude is the author of the Bram Stoker Award-nominated novel, Riding the Centipede, as well as the scribe of numerous short stories and the collection, The Wrath of Concrete and Steel from Dynatox Ministries.
Recently, John Claude and I discussed his debut novel as well as his writing plans for the future.
A couple icebreakers to start: when did you first decide to become a writer, and who are some of your favorite authors?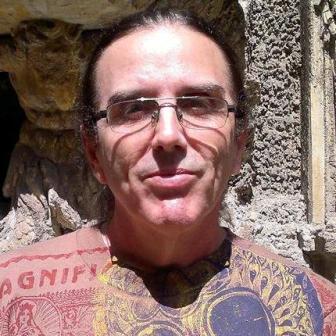 It's not a choice as I've always written—don't all writers say that?—but the point when I realized I should do something serious with writing was in my late twenties.  It was how I spent my free time, and even moments while at work, scribbling notes, poems, tales, etc.  I started submitting short stories—really bad ones, for the most part, but one must start somewhere—to magazines soon thereafter.
As for favorite authors, there are always too many to name, and so many current writers inspire me with every new tale they publish.  We're really in a prime era for Weird fiction, which is what I enjoy most, but dark, speculative fiction, in general.  So, a few from now: Damien Angelica Walters, Scott Nicolay, Laird Barron, S.P. Miskowski, Christopher Slatsky…and a few from before, though some still write wonderful tales: J.G. Ballard, Clive Barker, Kathe Koja, Lucy Taylor, Charlee Jacob, Joe R. Lansdale, Thomas Ligotti…
Congratulations on all your success with your debut novel, Riding the Centipede! What initially inspired you to write a dark Hollywood noir, and what was the most surprising part of becoming a first-time novelist?
Thank you!  Well, to be honest, as with many writers, the first published novel is not the first novel written. I had written two novels and one other in need of only the finale prior to writing RtC.  The seed for RtC was a short idea I'd written about two guys on a trek to where William S. Burroughs was buried, because they'd heard about the 'ultimate trip' one could take by injecting Burroughs' dead body with some of their blood, then taking the mixture after it incubates, and injecting it into themselves. Hence, the ultimate trip.  I took this idea and fleshed it out.  That's when Private Investigator, Terrance Blake, came into the picture.  At this point, I let it roll however it wanted to take shape.  That's when the runaway drug addict, Marlon Teagarden, joined the fray.  The Hollywood background just kind of happened—I don't ask questions when the Muse is showing me the path.  And then, in the devious ways the Muse works, she introduced me to the nuclear menace, Rudolf Chernobyl…
The most surprising aspect of getting RtC out comes down to two things: from a writing point of view, the fact that I undertook a novel with three perspectives was rather daunting but too much fun. I'd never attempted anything like this.  I feel like I pulled it off, kept everything balanced, fairly well.  From a professional point of view, the great responses to the novel were not exactly a surprise, so much as the overall positive nature of them, including its having been a finalist in the Bram Stoker Superior Achievement in a First Novel category, something I will always cherish. I figured, perhaps I had done something right.
Over the last few years, you've written a number of short stories, which have gone on to be published in venues such as Nightscript and The Beauty of Death. How is your process the same or different when you are writing long versus short fiction?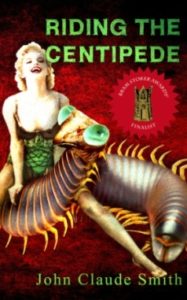 The difference used to be, short tales were driven by an image or a singular intent, while longer pieces allowed more room to add layers, depth to character, etc.  At this point in my so-called writing career, I sense a desire to write longer pieces most of the time, so every short piece, unless it's meant to fit into a specific word count, might have more meat added to the bones and become something more than I initially intended.  (When I say meat, I do not mean flab. Never flab. Muscular and lean is what I think of when I read most of my tales, especially the longer ones, which may sound contradictory, but is not…if you read them.)  But, because I enjoy what can be said with more words, the need to keep shorter tales within a certain word count has forced me to sharpen what I say, how I say things, so even the shorter tales might become something more, something stronger.  I sense having written a good number of longer pieces—I love novelettes—this has improved how I go about writing short stories.  The process used to feel much different, but now, perhaps not as much.  I write.  Whatever is necessary for the tale is how I go about writing it, no matter the length.
Your collection, The Wrath of Concrete and Steel, is available now from Dynatox Ministries. What can we expect from this title (gorgeous cover, by the way!)?  
When Jordan Krall, the head of Dynatox Ministries/Dunhams Manor Press, showed me the cover, my response was immediate: I loved it!  As for the "collection," it's less a collection and more a three-pack of weird tales written with an urban backdrop.  The tales are in a way perhaps subtler than some of my work, but I say this then realize there's a scene here and there that might make the reader step back, so who knows? I do know the first tale, "The Land Lord," a 15.6k novelette, and the last tale, "The Wounded Table," a 4.9k short story, are amongst what I consider to be my very best writing…so far.
An aside: I recently, with the impending release of Wrath, have thought of my books in music terms, ahem.  I've got two full-length albums (my collections, The Dark is Light Enough for Me, and Autumn in the Abyss), a full-length concept album (Riding the Centipede), three limited edition singles (my single-tale chapbooks, Dandelions, Vox Terrae, and The Anti-Everything) and now, my first E.P.!
As a horror writer, what do you hope to see in the future for the genre?
This is actually a hard question, because what I want from any writing is simply better writing—writing that sings—and tales that capture the imagination.  Period.  Stories that connect on a human level, then take that connection and really shake things up, inspiring awe or dread or any number of responses.
As for specifically horror, perhaps growth away from the tropes, not that there's not a place for them, but expanding the vision of what we do seems a more relevant move.  Diversity of voices and a broader scope of ideas really inspire my own writing as well.
What upcoming projects are you working on?
There's so much in the mix.  I'm presently writing two novellas/short novels, one of which should be completed by, say, the end of August.  It actually deals with one of those aforementioned tropes, and spins it on its head.  I also have three more tales to write to complete my longest collection of short stories.  Two if not all three of the tales promise to have some meat on them, being novelettes if not a novella for one of them.  A couple short stories for anthology requests fills out the rest of this year, though at all times there's the possibility of a new tale here and there…
Big thanks to John Claude Smith for being part of this week's author interview series. Find him online at Facebook and Twitter as well as his blog, The Wilderness Within.
Happy reading!