June is almost over, and what a month it's been! Recently, I marked a pretty big occasion in my writing career. The May/June issue of Interzone features my fantasy tale, "The Tower Princesses." Needless to say, it is so thrilling to have a story in an issue of Interzone, a magazine I've long admired, and it's also been a wonderful honor to work with editor Andy Cox.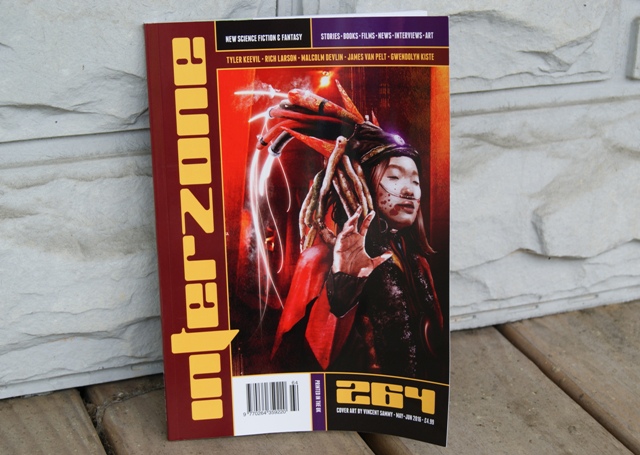 So what's this story all about? Weirdness, for one. Otherness, for two. "The Tower Princesses" concerns a group of teenage girls who become encased in movable towers and must cope with rampant xenophobia from those who don't understand their condition. The narrator, who is not a so-called "tower princess," strikes up an unlikely and secret friendship with one of the ostracized girls, and things take a few grave and life-changing turns from there. Since its release, the story has already been called bizarre, strange, unusual, even provocative. It's a little bit fairy tale. It's a whole lot something else. It's dark and worthy of trigger warnings. It's also probably the most polarizing story I've written so far. I've gotten feedback from readers who have loved it, and a couple readers who were, well, we'll say less than thrilled with it. Suffice it to say, with themes of bullying and isolation and two scenes that allude to sexual violence, it's perhaps not the easiest read.
Because this story deals with some weighty issues, I promised myself when I was writing the first draft that I wouldn't hold back, no matter how difficult it became. It can become tempting to temper your writing, especially when you know dealing with subjects like sexual assault can limit your ability to sell the story in the first place. Some markets issue automatic rejections based on strong subject matter alone. However, I stuck to my original vision with "The Tower Princesses," raw as it was, and in retrospect, I'm so glad I didn't waver, despite how painful it was at times.
As a reader, I seek out stories that will push me outside of my comfort zone. When it comes to literature and art in general, I want my mind to be twisted and taken to places that maybe I never cared to go on my own, but that once I've returned, I'm grateful—-and albeit a little wary—from my travels.
So in honor of the release of "The Tower Princesses," here are four stories that made me uncomfortable, that pushed my buttons, and that turned the world upside down, even for a moment, and set me back down a slightly (if not wholly) different person. Consequently, these four stories did their jobs very, very well.
"Three Small Slices of Pumpkin Pie" by Wendy N. Wagner
With beautiful prose and a strong but tragic protagonist, this short story transposes the burden women bear in society into a literal pumpkin they must carry with them everywhere they go. It's a seemingly simple concept that quietly and effectively comments on gender issues in a way that is wholly original and thought-provoking. Indeed, this one has really stuck with me, and when I featured it on my list of Must-Read Short Fiction of 2015, I mentioned how this is exactly the type of darkly allegorical story that will embolden and inspire my own writing. And now, nearly a year after I first read "Three Small Slices of Pumpkin Pie," thoughts and images conjured by this story continue to creep through my head. That's a powerful story, and one worth reading (or rereading) promptly.
Read "Three Small Slices of Pumpkin Pie" for free here.
 "Armless Maidens of the American West" by Genevieve Valentine
Using the fairy tale imagery of an armless maiden, this story explores what happens when tragedy befalls someone, and everybody just looks away, desperate to forget. An armless maiden lives just beyond a golf course in a wooded area, but no one except the narrator cares to get close to the abandoned girl. That is, until a researcher comes to town and reveals that this armless maiden isn't the only one of her kind. Many readers have taken this as a parable for the aftermath of sexual assault, but this story is so effective and cuts so deep that it could be taken even further: the armless maiden is a stand-in for the apathy we feel toward all victims of senseless tragedy, the way we as a society might be captivated and shocked for a moment, only to look away and try our best to pretend it never happened. However, this unforgettable story does its best to ensure the reader will never make that same mistake.
Read "Armless Maidens of the American West" for free here.
"The Haunted Girl" by Lisa Bradley
Although the thread between the two might be a tenuous spiderweb, this poem published in the always awesome Goblin Fruit makes an appropriate companion piece for "Armless Maidens," with both works exploring women's place in a world that does not welcome them, a world that has discarded them and might pretend they don't exist at all. This is otherness in its rawest form, and the language in this poem is by turns beautiful, ethereal, and coarse, but never anything less than superb.
Read "The Haunted Girl" for free here.
"The Ones Who Walk Away from Omelas" by Ursula K. Le Guin
Way back when I was only twelve years old, I discovered this brutal little tale, and my perspective on the world has never been the same. In my mental catalog of favorite speculative stories, I include "The Ones Who Walk Away from Omelas" in the same category as Shirley Jackson's "The Lottery." In each, the author explores a seemingly idyllic small town and the rot that lies just beneath the surface. That's a theme that might shock—after all, "The Lottery" received more hate mail when it was published in The New Yorker than any story before it—but it's an unfortunate truth whether we admit it or not. "The Ones Who Walk Away from Omelas" challenges us to never dismiss suffering simply because it's tucked away and for the so-called greater good. A necessary message, and one that resonates just as deeply more than forty years after this story's first publication.
Pick up a copy of "The Ones Who Walk Away from Omelas" here.
Happy (and Contemplative) Reading!