Welcome back to our second interview for Women in Horror Month! This week, I'm proud to present Farah Rose Smith. Farah is the editor of Mantid Magazine, a brand new horror and dark fantasy publication that encourages diversity in weird fiction. The first issue premiered last month and includes stories by Sean M. Thompson, Brian Barr, Scarlett R. Algee, Joe Baumann, and yours truly.
Recently, Farah and I discussed the auspicious debut of Mantid Magazine as well as where she sees her editing and writing career headed from here.
A couple icebreakers to start: when did you first decide to become involved in the publishing world, and who are some of your favorite authors?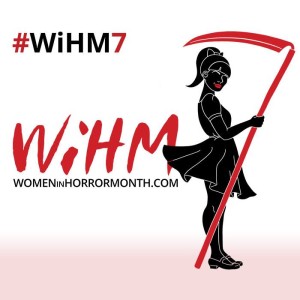 I've been writing in one form or another since childhood (initially for joy more than any kind of career pursuit), but quickly became disenchanted with the "business" of writing once I shifted gears towards pursuing it professionally. Traditional publication is something we all aspire to, but there is a sense that an element of the "art" of writing has been left behind in the very commercial-oriented publishing markets. So this past year, with a great team by my side, I decided to jump in head-first and try to make some new things happen.
On a personal note, there are so many authors that I love, I'd have difficulty naming only a few. Those in the top tier would be E.T.A. Hoffmann, Maurice Maeterlinck, Gabriel García Márquez, Frank Herbert, H.P. Lovecraft, Walter Tevis, Anya Seton, Phillip K. Dick, Vladimir Nabokov, Ambrose Bierce, and Algernon Blackwood.
What inspired you to launch Mantid Magazine? Where would you like to see the magazine in five years?
I've stumbled around various arts and literary communities for years. Consistently aggravated with what I considered to be detrimental undercurrents that created a less-than-welcoming environment for unsung artists, writers, and different people in general, I consulted with various acquaintances and we began to develop the concept for this publication. Though opportunities are better than they once were for diverse media creators, they are nowhere near where they should be. We want to help change that.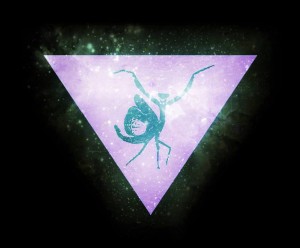 It has been our hope to offer a platform that could begin to bridge the cultural gaps that still have yet to be addressed in full across various artistic mediums.
To truly fulfill our mission to the best of our ability, first and foremost, it is important that we elevate Mantid enough so that we can make it a paying publication. That is an immediate goal. In five years, we would definitely like to be generous with what we offer to our contributors. Ideally the production would evolve from its current state into more of a committee-structure in order to address the needs and perspectives of everyone we hope to forge a community with. Ultimately, we hope to serve as a platform for both current and emerging artists and writers on a notable scale.
Something we would also like to develop are Mantid Magazine-oriented events that benefit both the evolution of the magazine, its contributors, and various causes that align with our philosophy.
As one of the first authors published in Mantid Magazine, I might be a little biased, but I have to say this: the web design and debut cover for the magazine look fantastic! Too often, poor design is something that holds back publications in their early stages, but Mantid does not have that problem at all. Do you do all the graphic work yourself, or do you collaborate with others on it?
Thank you so much! The border illustrations were done by Lev Earle, our contributing editor and literary consultant. The model on the cover is Alex Janny, a film editor currently living in Los Angeles. I photographed the cover and managed the remainder of the design work for this issue. We have aspirations regarding the expansion of internal illustrations, so that will hopefully be something that will flourish once we gather adequate funding for further issues.
As someone very active in the publishing world, what tips can you share for balancing schedules and making time for editing and writing?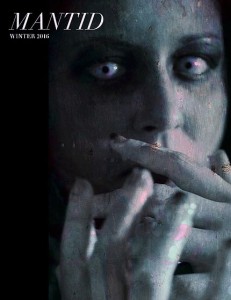 I wouldn't call myself very active in publishing yet, although I certainly hope that is the eventuality. I struggle with time management, as most do, especially working across several different mediums and trying to manage multiple sizable projects at once. Rotating blocks of work time and breaks keeps productivity going for me, as does establishing a set of six to eight tasks per day with either hourly or word count goals attached. I'm still trying to fine-tune that process, but I think the structuring of time management is something that ebbs and flows. There's no concrete path to sanity when it comes to conquering time. And some days I don't get a thing done. People need to know that it's ok to utterly fail sometimes!
February is Women in Horror Month. Do you have anything special planned for the month?
I'm currently brainstorming a few ways that we can celebrate Women in Horror month at Mantid, although we don't have any official plans. Regarding my personal plans, I'll be spreading the word/bringing news of Mantid Magazine to the Boskone literary convention in Boston, although not in an official capacity. Ultimately, it will be a month of catching up with the novels and collections I have sitting in my to-read pile.
What projects do you have coming down the pipeline?
After a break, the Mantid team will be shifting gears and starting to plan the fundraising campaign for our next issue. As for my own personal projects, I will be self-publishing a collection in early Summer with a novel to follow soon after. I think people tend to either love or hate the idea of self-publishing, but I've always been a fan. There are some brilliant collections out there now, particularly in the weird fiction genre, that were self-published. I think it's good to encourage people to forge their own path, especially if they keep running up against brick walls.
Big thanks to Farah Rose Smith for being part of this week's author interview series! Find her online at her personal site, and be sure to check out the debut issue of Mantid Magazine available now!
Happy reading!