Welcome back! This week's interview is with the talented Autumn Christian. Autumn is the author of The Crooked God Machine and We are Wormwood, and she recently received a Wonderland Book Award nomination for her collection, Ecstatic Inferno. In addition, her short stories have appeared in Eternal Frankenstein and A Breath from the Sky: Unusual Stories of Possession, among other publications.
Recently, Autumn and I discussed her inspiration as a writer as well as how she was first drawn into the worlds of horror and weird fiction.
A couple icebreakers to start: when did you first decide to become a writer, and who are some of your favorite authors?
I decided I wanted to be a writer pretty much when I started reading around 6 years old. I'd never experienced something as amazing as the experience of reading, and immediately wanted to plunge myself into that fantastical world forever. It was a total "Plato's Cave" experience. Some of my favorite writers are Philip K. Dick, Ray Bradbury, Tom Piccirilli, Shirley Jackson, Amy Hempel, Brian Evenson, Faulkner, and Nabokov.
As a storyteller, what draws you to horror and weird fiction? Do you remember the first horror film you saw, or the first horror story you read?
Horror and weird fiction excites me. I've always been attracted to the strange and unusual. It seemed to be a sort of gateway to deep mysteries about human nature and our universe. Infinity and possibility are horrifying. Our deepest secrets and impulses are horrifying. I think through horror, we learn more about who we truly are and what we're capable of.
The first movie that legitimately horrified me was the 1964 stop-motion Rudolph The Red-Nosed Reindeer. I used to hide behind the couch when Bumble the Abominable Snowman came onto the screen. I'd dream about him lurking outside as I hid in the attic. If you look on YouTube for the Bumble scenes, you can hear that his roar sound FX is actually truly terrifying. I know that the first horror book was something I read by R.L Stine. I think it was a choose your own adventure called "Don't Feed the Vampire." It had an illustration of Fifi The Vampire Poodle on the cover.
At your blog, you do a series of nonfiction articles about your experiences as a writer. On average, how does one of your articles develop? Are the posts mostly extemporaneous, or do you often spend days or weeks ahead of time developing a concept for your blog? Or perhaps is it a bit of both?
I started writing these long non-fiction articles as Facebook posts a few years back. I was a very confused and lost person with deep depression and trauma issues, trying to fumble my way through the world (Like many people). When I first began writing those posts, it was the beginning of me piecing together a cogent understanding of myself and how I related to other people. People seemed to appreciate my writing, but I didn't write those posts to educate or talk to other people. It was really me trying to communicate with myself, and solidify concepts that'd been swirling around in my brain into something concrete so that I could have a more purposeful and enjoyable life. I started posting them publicly though, because you know, I'm a writer and I have an ego problem.
I will usually write these posts in one sitting, but oftentimes they are concepts that I've been contemplating for weeks or months, and then will suddenly "click" into place enough for me to write. Sometimes I'll get a flash of inspiration from a conversation or something that happened in real life, or something that I read. (I suppose like any other idea.)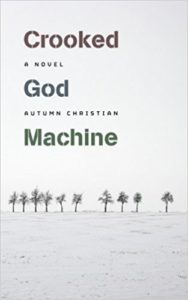 You've written both long and short fiction. Do you prefer one length over another? Also, what helps you to determine whether a story should be a shorter form or novel length?
Writing a short story is like enjoying a relaxing night alone in a secluded cabin. Writing a novel is like hiking the Appalachian trail, except it takes longer and it's bloodier. At the end of a novel, you're not going to be the same person you were at the beginning, and the journey is going to change you in ways you aren't yet prepared for.
The format depends on the complexity of the idea, and how much I'm willing to explore it. If I'm going to spend a year or more with a singular idea, I want it to be one I'm genuinely attached to.
If forced to choose, which is your favorite part of the writing process: plotting a story, developing voice, or establishing setting?
My favorite part of the writing process is when the outside world becomes quiet and my being is interlaced completely with the keyboard and that singular moment of story.
Out of your published work, do you have a personal favorite?
Right now it's "Sewn into Her Fingers" that's in the anthology Eternal Frankenstein that came out last year from Word Horde. It was the first thing I wrote in years that I felt was truly the next step in my evolution as a writer.
What projects are you currently working on?
I'm working on a novel called The Edgar Allan Poe Simulator, which is about Poe, video games, life and death, and interdimensional portals. I'm also finishing up a short story about a nymphomaniac who has the magic power to heal trauma through sex.
Big thanks to Autumn Christian for being this week's author interview. Find her online at her website and her Amazon Author page as well as on Facebook and Twitter!
Happy reading!