As anyone who reads my blogs–either here or over at 60 Days of Halloween or even at Pittsburgh City Paper–already knows, I adore the Hollywood Theater in Dormont. The eclectic programming highlights everything awesome and good about cinema. From Old Hollywood classics to newly released indie films, there is seriously something to satiate the taste of every fan of offbeat film.
And nothing says offbeat and funky quite like the artist currently known as Prince. Now thirty years after its release, Prince's legendary rock film Purple Rain remains an inveterate classic.
Frankie Cosentino, the organizer of the regular Purple Rain Party at the Hollywood Theater, was inspired to create a Prince-centric event thanks to his longtime passion for music and, of course, "being such a big Prince fan".
"What makes Purple Rain stand the test of time is the brilliant music and live performances throughout the movie," Cosentino says.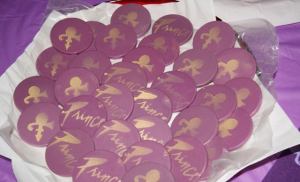 And to ensure the pre-party festivities are just as good as the movie itself, crafting the event is no small feat. From Prince-themed food (the cookie formerly known as Prince!) to the wall-to-wall décor, this is one soiree that does not scrimp on the finer details.
"We transform the Hollywood Theater into a Prince fan's dream," Cosentino says. "[It's] a chance for Prince fans to come together and experience an evening that they wouldn't experience anywhere else, [including] unseen photos, rare music and the [chance] to see one of the greatest rock movies ever made!"
At the last Purple Rain event over the summer, Cosentino made it into a double feature by showing a little known (and little seen) Prince film, Three Chains of Gold. As for any surprises this time around, we'll just have to wait and see.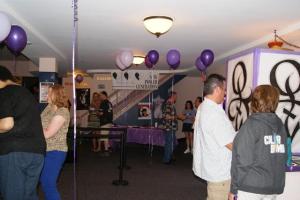 "When I do the Purple Rain parties I always try to outdo myself and make each one better than the last," Cosentino says. "[And] I think everyone likes surprises."
It helps that Cosentino is no newbie to event promotion. He has coordinated multiple Prince-themed fundraisers at the Hollywood in the past, and thanks to robust attendance, the future for the events looks good.
"As long as people enjoy themselves, I will continue to have the Purple Rain events," he says.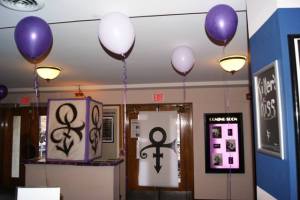 As for those of you out there who might not yet be a Prince devotee, Cosentino still encourages you to head out to the Hollywood event on December 19th.
"Anyone who has a love for music would love the movie Purple Rain once they saw it!"
So if the Hollywood Theater can't make you a Prince believer, then Frankie Cosentino will. After all, who can argue with that much exuberance?
The Purple Rain Party. Friday, December 19th at the Hollywood Theater in Dormont. Doors open at 6:30pm. Tickets are $8 and can be purchased at Showclix.